The major problem that every video production companies face is cutting, trimming, editing, or merging videos using the software. All the software that is available in the market have their features, and some of them are free while others are paid software. Video editors require software that can perform all the tasks like cutting the videos, trimming it and merging two separate videos into one. If you have been searching for best video editing software, then your search destination ends with Joyoshare Media Cutter. It is a professional video cutter software that enables users to cut videos or audios into smaller segments and merge them as and when required.
Features of Joyoshare Media Cutter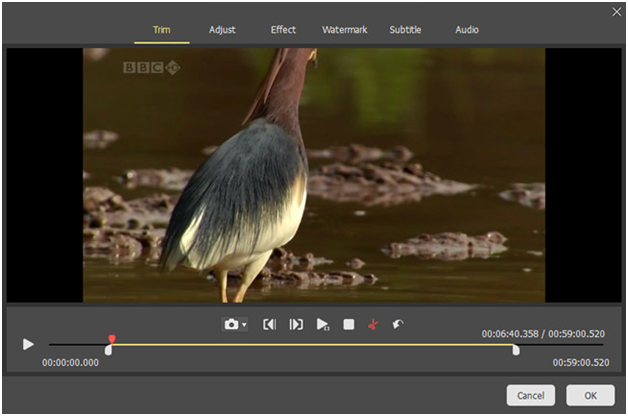 60X faster than other tools: – Joyoshare Media Cutter uses optimized lines of codes which runs faster while processing the video. The tool is efficient in editing the videos at lightning speed. It is 60X times faster than any other video editing software.
Lossless output video quality:-Joyoshare Media Cutter is the best tool for producing high-quality video after editing the video. The output quality of the video is excellent, and there is no loss in quality after video processing.
Built-in editor:-Joyoshare Media Cutter has an inbuilt editor which makes it easier for editing the videos. These editors can efficiently cut the video, merge separate videos into one and also crop it as required. We can add watermark or subtitles and also add effects to videos to make it spectacular.
Use can Change the parameters: – There are several parameters which needs to be considered while editing or processing videos. These parameters are codec, resolution, bit rate, sample rate etc. Using Joyoshare Media Cutter one can easily change these parameters without any difficulties.
Preview window: – User can also check the preview of the video after applying the setting. This can save time and 100% efficient for producing lossless video quality output.
Supports many popular file formats: – Joyoshare Media cutter supports multiple audio and video formats like mp3, WMV or MPEG, mp4 etc.
What can Joyoshare Media Cutter Used for?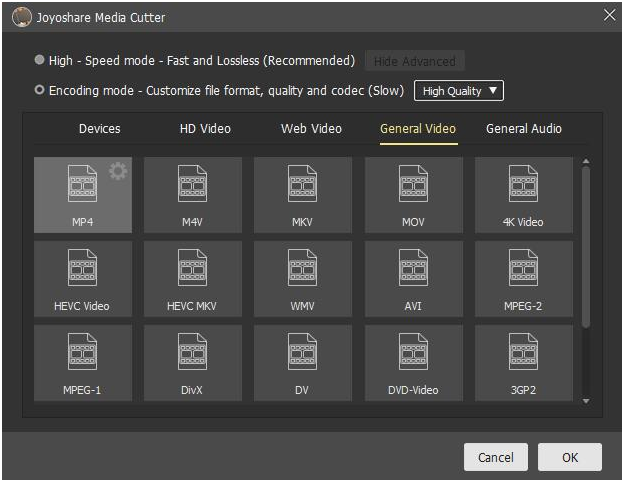 Cut Videos and audios: – Sometimes we might want to cut the videos to make it short or cut audios to make the proper selection of the song to increase the impact for viewers. For this purpose, we need software that can easily cut and trim the video as well as audio effectively. The cutting and trimming process is straightforward when we do it with Joyoshare Media Cutter.
Convert the file format of videos or audios:- Sometimes our default media players do not support the video format, and it fails to play properly on our device. In such a situation, we need software that can convert the video or audio format of the file into a compatible format with media players so that it can be played without any compatibility issues.
Convert videos or audios in multiple standard formats:- Sometimes we are trying to merge videos that are of different file format. Hence we need software that can accept any video format and convert them into multiple video formats so that the user can quickly select them as per their needs and requirements.
Trim videos into smaller fragments:- Sometimes we want to trim and crop the videos and convert it into smaller fragment especially making it suitable for Whatsapp stats etc. Using Joyoshare Media Cutter, you can trim and crop the videos with ease.
Pros:-
Available for both mac and windows OS – Joyoshare Media Cutter is the best video editing software which is available free trial version as well as a paid version for both windows and mac operating system. Its software can be downloaded from the official site of Joyoshare.
Ease of use: – The user-friendly interface is very impressive. The attractive colours provide a professional look. The basic operations like cutting, trimming, merging videos are simple using this software tool.
To conclude, we must say that this software is ideal video merging, cutting or trimming software that is 60x times faster than any other ordinary video editing tools. The file size is less as compared with other tools which make extra space for other applications on the device. The software is optimized, which makes the video processing faster, and the user need not wait long. We can also add or remove watermarks and add special effects to gain more attention from the viewers. The audio and video quality is not lost when the processing is done using this software tool. This tool has inbuilt video editors that can change the parameters easily to convert the file format, change bit rates, or resolution. It supports all popular video formats including MPEG, MOV, MPEG. The same software can be used for converting the video files to audio files in WMV, or mp3 format without any difficulty at all.