It's essential to make extensive research before choosing the right hosting solution for your website. There are numerous options available, not only for the server but also in terms of hosting that you will need.
Most business owners start with a shared server, and gradually when the demands of their websites/applications increase, they look for other hosting options. Dedicated hosting is the best option to host your high-demanding website that requires lots of resources and power for computing.
In dedicated hosting, you get a complete server that is dedicated to you. You don't have to share the server with anyone else. Also, in dedicated hosting, the server resources are not shared thus, you get 100% dedicated resources for your website/application.
Although dedicated servers cost high, the benefits outweigh the expense.
Benefits of using a cheap Dedicated Server:
Reliability & Performance
In dedicated hosting, you don't share server resources with other users. You can enjoy both higher performance reliability with dedicated hosting.
Security
One of the main benefits of dedicated hosting is security. A dedicated server is highly secured as the server is entirely in your hands. You don't have to worry about the outdated applications of other users.
Flexibility
As your business grows, a dedicated server grows with your business.
When you compare it to other hosting options, a dedicated server gives you high resilience and flexibility.
After knowing about dedicated hosting in brief, let us know about the best bare metal dedicated hosting provider, MilesWeb. They offer rock-solid and low-cost dedicated hosting plans.
About MilesWeb
MilesWeb is a top web hosting provider known for offering reliable and cost-effective web hosting solutions to customers. MilesWeb meets and exceeds the expectations of its customers and strives to provide best-in-class customer support.
They offer varied web hosting services such as shared hosting, WordPress hosting, linux reseller hosting, cloud hosting, dedicated server hosting and VPS hosting.
Dedicated Hosting Plans by MilesWeb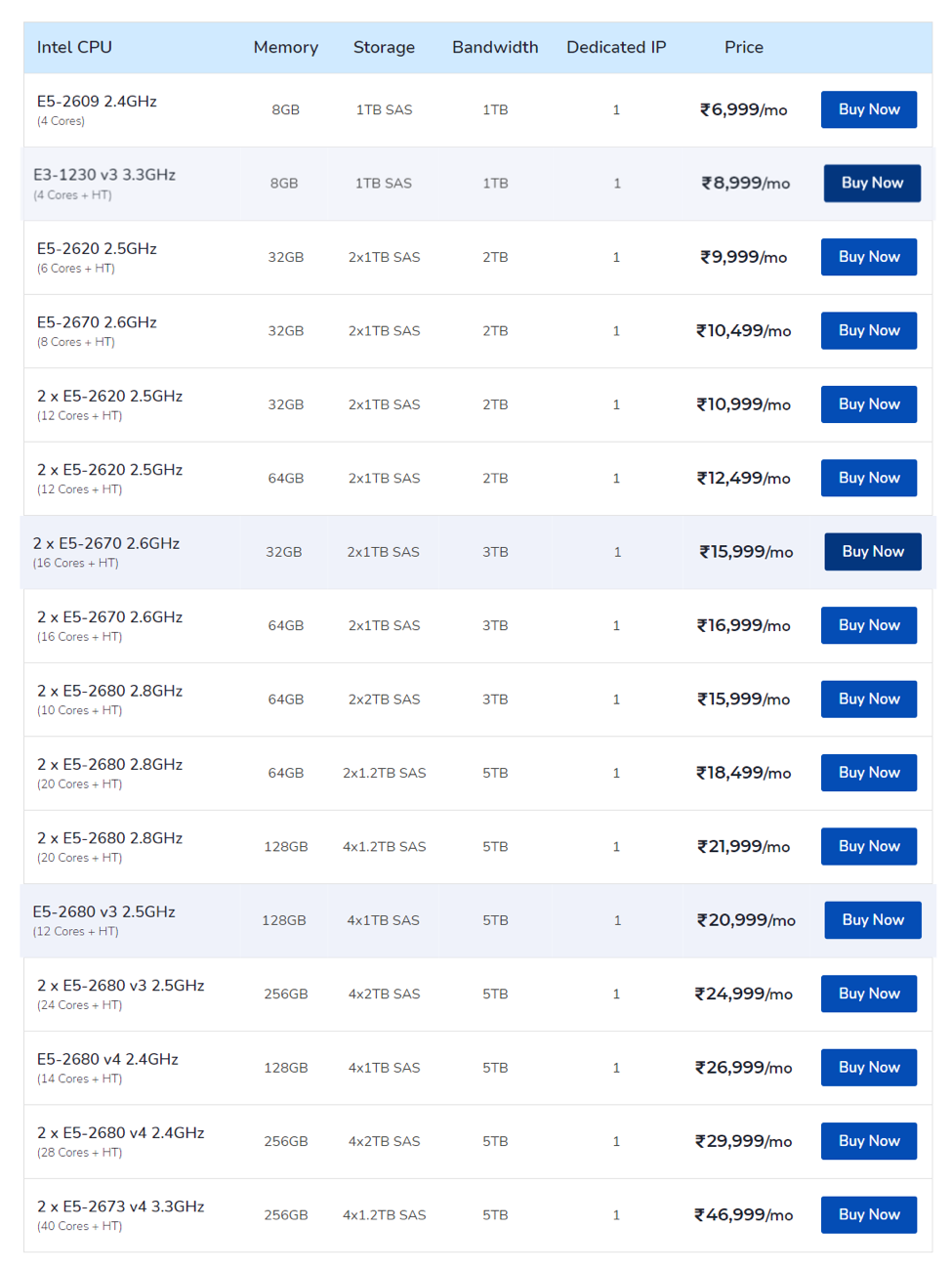 As you can see in the image above:
Storage options range from 1TB SAS to 4×1.2TB SAS
RAM ranging from 8GB to 256GB.
Bandwidth from 1 to 5 TB
MilesWeb has all of the high-performance capabilities you need for your resource-intensive website or application. Your website will run faster if you have enough resources.
Why Opt for MilesWeb's Dedicated Hosting? 
Highly Reliable
In shared hosting, there is sharing of resources. Unlike in dedicated hosting, there is no sharing of resources and, you get 100% dedicated resources for your heavy websites or applications.
SSH Root Access
SSH and Root access are included with every dedicated hosting plan of MilesWeb. You have the liberty of installing applications of your choice on the dedicated server.
No Contract Charges
For setting up your server, MilesWeb does not take any extra charges from you. You are free to cancel the server anytime you want.
If you cancel the server, you don't have to pay the charges of cancellation.
100% Security 
With a dedicated server, you get an environment that is isolated. An isolated environment gives very high privacy and security to your server. Also, it excludes the risks from threats as your server is isolated from others.
Highly Powerful Servers       
MilesWeb's dedicated servers are fast and reliable by industry-leading enterprise-grade hardware from Super-micro, Dell and HP. The bare metal dedicated servers give very high speed and performance to your high-end website or application.
Full Server Control 
The complete isolated environment gives high security, flexibility and control for your high-end websites or applications. You get full server control with MilesWeb's dedicated hosting plans. You can modify the server according to your requirements and install applications of your choice on the server. Also, no limit on the number of websites you want to host.
RDP and full root SSH access is given with each dedicated hosting plan of MilesWeb. You get full control over the entire server as the system administrator.
99.99% Uptime Guarantee 
To keep your websites running and functioning without any hassle on the internet, MilesWeb provides a 99.99% uptime guarantee.
MilesWeb gives assurance of the uptime guarantee with its high-end infrastructure, security protocols and very high maintenance. The server is checked and monitored by the support engineers constantly and ensures that it is up online.
Bare-Metal Server
A bare-metal server is a physical server that has a single-tenant environment. It is designed specifically to handle heavy web applications that require highly efficient computing hardware without any difficulty. A bare-metal server is reliable and has very high stability and durability.
Notable Features of Dedicated Hosting 
Here are some of the notable features of dedicated hosting.
Hardware RAID
Premium Bandwidth
Private VLAN Subnets
IPv4 and IPv6 addresses
Robust Network
IPv4 and IPv6 addresses
To Sum Up 
MilesWeb offers the best-dedicated hosting service for your high-end website or application. With all the dedicated hosting plans, you get full server control, 99.99% uptime SLA and all the high-performing features that your websites/applications require to run smoothly.